about me - 2
I'm a storyteller and illustrator who lives in London - a beautiful and colourful city known for its history and also for its wonderfully vibrant multicultural nature.
My work is inspired by storytelling, nostalgia and a strong sense of narrative. Most of my illustrations suggest some type of story - and this is reinforced by the stories that I actually write and the tales that I love to share.
I love creating art that is full of vibrancy and colour. I create my work using mixed media - so I combine acrylics, pastels, charcoals, inks and more! I think there are far too many ways of exploring art to stick to just one medium! 
I am also passionate about creating and sharing stories. As a child, I was often chosen to tell stories at the end of the school day. In those days, my stories were primarily about pretty princesses or runaway orphans - but now my stories often focus on the brilliant resilience of women and girls.
Over the years I was inspired by the stories I heard from my childhood. Our lives revolved around stories from my mother's Caribbean childhood, attending church on Sunday wearing our special wide-brimmed hats, and listening to my mother, my aunt and their friends reminisce about life "back home" as they called it.
I wanted to take these stories of ourselves, our mothers and grandmothers, and transform it into beautiful living art. 
This is especially important to me , because growing up I rarely saw anyone who looked like me reflected in art. When I bought simple gifts, such as mugs or journals, I didn't see myself reflected on it in anyway. So now I have transformed my artwork into greeting cards, bags and more - so it's a both a way to beautify your home, and live a more inspired life too!
If you want to know more about me, please browse through my Blog (though I must confess I am a rather inconsisent blogger!) And if you want to see the range of goodies we have on offer, then please take a look at my small and growing shop!
Thanks so much for reading - I truly hope you find something to inspire you!
Best
Antoinette Faith Brooks xxx
It was then that I turned to art. It gave me a small goal to work on when pain levels were more manageable. I was unable to attend art classes. ... but gradually I taught myself how to paint, using books and some great videos to guide me on my journey.
Now things have come full circle. I care for my mother who took such good care of me. 
I believe that the art we surround ourselves with day to day, matters. It's important. It reflects what is valuable to us, and what we hold dear.
Growing up, I never saw anyone who looked like me reflected in art. When I bought simple gifts, such as mugs or journals, I didn't see myself reflected on it in anyway.
It felt as if although we were part of the culture, we were somewhere off to the side. Undervalued and definitely undercelebrated.
I live in London, and while I enjoy the vibrancy and fast-paced life of the city, I also yearn for the rural landscape of "back home" and the stories of life that has been shared by my mother and aunt.
I am on a mission ...
My mission was to create beautifully illustrated art and home decor that reflected and celebrated women of colour. To combine art with words to create that perfect "Aha," experience, where you find that perfect something that speaks to you and resonates with you.believe that as women of colour, we deserve art and gifts that celebrate us.
 For me, it is important to reflect and tell our stories in a variety of ways. Whether its art inspired by memories of my Caribbean heritage - with women gathered at the river on washing day to wash clothes, or a quiet moment outside to read the Bible,  or a girl dancing with joy and intensity in the long grass, these are the stories of us, and these are the images that matter to me.
am a storyteller and illustrator who creates pictures that tell a story. Pictures that tell remind us of th ebeuaty and resilience of wome of colour. Pictures that celebrate our heritage  in all its vibrancy. 
Whether its capturing the joy of two women washing clothes in the river, 
Welcome - so glad you're here!
I believe that beautiful art is a gift that everyone can enjoy. I believe in celebrating the strength and beauty of women of colour - and reminding ourselves of their wisdom and resilience as we go throughout our day,
I believe that creativity - in whatever form - is a God-given gift which we can use to add meaning to our lives and share with others.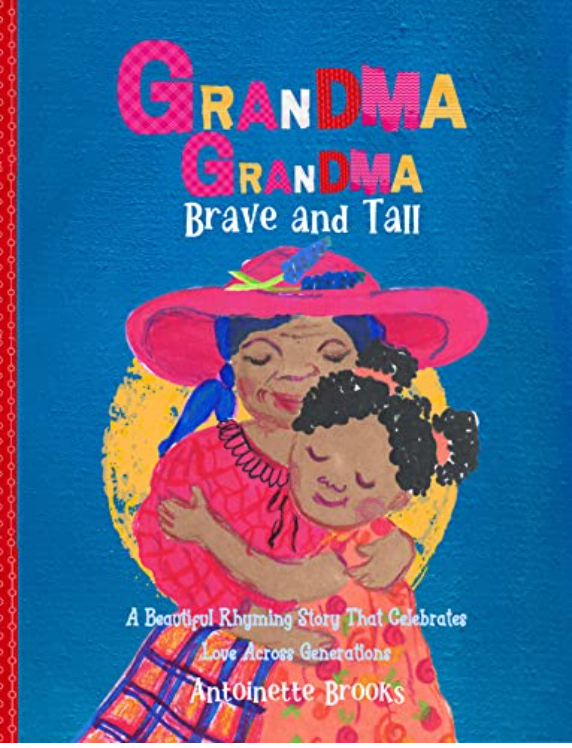 Grandma Grandma Brave and Tall
Grandma Grandma Brave and Tall is a vibrantly illustrated picture book that celebrates the unbreakable love between grandmother and grandchildren from one generation to another.
Starting in England, with a little girl tucked up in bed, this captivating rhyming book travels back in time to life in the Caribbean, and then back again through history. A monument to love experienced within a family from one generation to the next.